Aunt Stacey is currently accepting clients for
behavioral consultations & private instructional workshops.
Cats Rule!!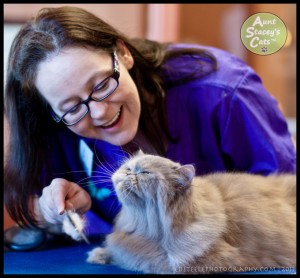 Aunt Stacey with Daisy
Photo by: Ed Steele Photography
I'm Aunt Stacey and my life is devoted to studying and understanding all that I can about the wonderful world of magnificent, mysterious, and magical domestic cats.
As a professional cat-exclusive groomer for more than 12 years my clients often look to me for advice about a variety of feline topics. From behavior and hygiene to nutrition and exercise, if it's about helping cats then it's my passion to discover the best options available.
My philosophy encompasses a compassionate and thoughtful approach to understanding and interacting with cats. By considering the world through the cat's point of view, our relationships with these intelligent beings will noticeably improve as we feel the positive effects in many ways.
I'm excited to offer behavior and lifestyle purrsonalized consultations designed to educate cat lovers and pet professionals alike while enriching the lives of our feline companions. Whether you are a devoted cat guardian, a pet pro, or a fellow crazy cat person, if you want to increase your knowledge about cats, I want to provide you with cat-friendly solutions. Click on the links below for more information.
Feline Behavior & Lifestyle Consulting
Private & Group Educational Workshops
Thank you for visiting my website. For updates and special features, sign up for my newsletter. Wishing you and your cats all the best. Purrs!